Orange Meringue Cupcakes!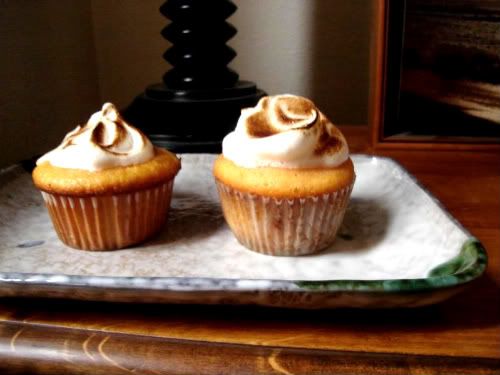 My coworker and friend is getting married and wanted three different kinds of cupcakes to serve instead of a wedding cake. This is one of the flavors I'm trying to develop. The other two flavors she wants is vanilla and chocolate.

This flavor still needs to be tweaked a little bit more, IMO. I used this recipe, paired with a nonstandard meringue recipe (meaning I just whipped up some egg whites with a few tablespoons of sugar and cream of tartar, finishing it up with my blowtorch) that usually tops lemon meringue pie. I added more grand marnier than the recommended one T, (3 tablespoons more in place of 3 T of half and half). While I did get a more pronounced orange flavor, I think it needs more tartness, so I'm thinking of adding some lemon flavor, either from lemon juice or extract—but then I'm wondering why not then just go with lemon? I also added some red and yellow food coloring for some orange color. I also made a heavier version, using a orange butter cake recipe, again adding grand marnier in place of some of the liquid, but it was a little too heavy, IMO. I only got about 12 cupcakes with this recipe, too. I think I prefer the lightness of chiffon over this.

There is a lot of time before the wedding, so don't be surprised if you see me trying out another cupcake recipe totally different from this one.